Cosmetic Camouflage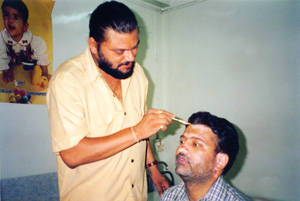 The concept of covering up the patches with simple Foundation Cream after matching the color tone is novel. It provides a boost for one's confidence while presenting oneself in day-to-day activities or on special occasions like attending parties, marriages etc. These makeups are time tested and do not cause any reaction or side effects on the delicate skin of person having Vitiligo. The Fixing Powder helps to blend the colour to surrounding skin and makes it stable. The makeup stays on skin for 7-8 hours and can be touched up if needed. The makeup should be removed before going to bed and it should be removed with cold cream. We have made DERMACOLOR makeup creams and Fixing Powder available at our office.
Method
Choose a suitable shade with the help of camouflage specialist or dermatologist in natural light.
If required, moisturize the skin with moisturizer.
Dab the cream with fingertips or sponge thinly and evenly past the edges of the white patch and blend the edges.
Apply fixing powder with the aid of powder puff or cotton pad.
Allow the powder to set for 10 minutes. Remove remaining powder with damp sponge or cotton wool.
Touching up is not necessary as makeup lasts a whole day.
If necessary, touch-up can be done in the same way as first application.
Removal of makeup should be done by applying vaseline or cold cream.
Use wet cotton pads for removal, wash the face with a soap.
Use moisturizer if needed.