A few articles on Vitiligo:
Click the links to view PDFs
Other Links
Here are some links to the sites of our well-wishers, collaborators and some useful information on vitiligo.
Other Articles
Click on the image below to read the article published in Maharashtra Times, July 2020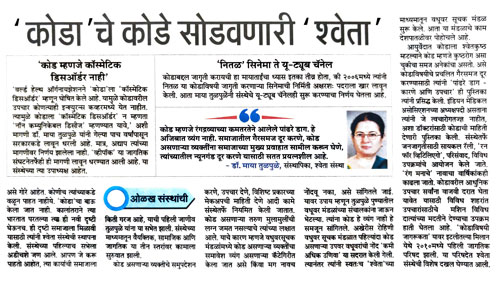 ---
The Independent - Barbie manufacturer launches new dolls with no hair and vitiligo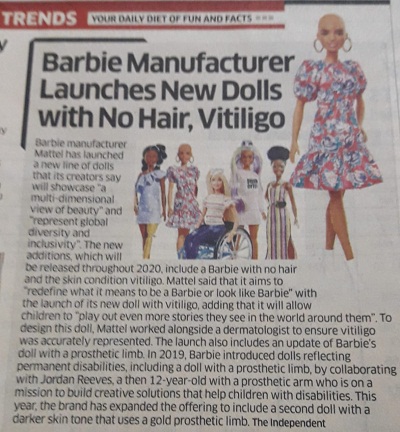 Show more
---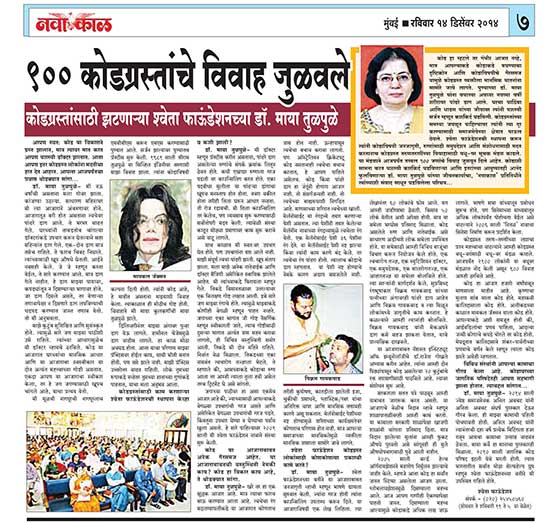 GR. from Maharashtra state government. Govt. seeks to remove stigma attached to vitiligo
State government's new order stated that henceforth the use of Marathi word, 'shwetakushtha', will be banned in all types of communications. Instead, it will be called 'shweta twacha' (white spots/skin).
Read letter from Government of Maharashtra (PDF 37KB)
नितळ अनुभव
- An article Published in Chaturang (Loksatta): Saturday, February 23, 2013.
By Dr. Maya Tulpule
"सत्तराव्या वर्षी कोड आलं ते तेवढं बरं करून द्या, मला मरताना कोड नको आहे", असं म्हणणारे आजोबा भेटतात, तेव्हा अगतिक झाल्यासारखं वाटतं. कोडाला अजूनही १०० टक्के उपचार उपलब्ध नाहीत. त्यासाठी खूप काम करणे गरजेचे आहे.
सांगताहेत गेली बारा वर्षे कोडा विषय़ीची नकारात्मक मानसिकता बदलण्यासाठी श्वेता हा स्वमदत गट स्थापन करणाऱ्या तसेच नितळ चित्रपटाची निर्मिती करणाऱ्या डॉ. माया तुळपुळे.