वधुवर मेळावा
दि. १७ डिसेंबर २०२३ रविवार
स्थळ - डॉ. नितु मांडके आय. एम. ए. हॉल, टिळक रोड. पुणे
वेळ - ९.३० ते २
संपर्क - ९२८४६५२०३२
श्वेता असोसिएशन पांढरे डाग, कोड स्वतःला किंवा नातेवाईकांना असणाऱ्या मुला-मुलींसाठी, मुला-मुलींची उपस्थिती अनिवार्य.
---
GlobalSkin at the World Congress of Dermatology 2023
Click on the images for larger view

GlobalSkin was proud to actively participate in the 25th World Congress of Dermatology (WCD), which took place in July 2023, in Singapore. Jennifer Austin and Marc Yale headed the event with a strong delegation of Board Directors and staff.
The GlobalSkin delegation successfully connected with patient organizations, networked with healthcare professional delegates, connected with prospective funders, and above all projected and advocated for the patient voice at this important dermatology event.
---
Screening of feature film Nital
June 29, Thursday, 4 pm. at National Film Archive, Pune. Entry free.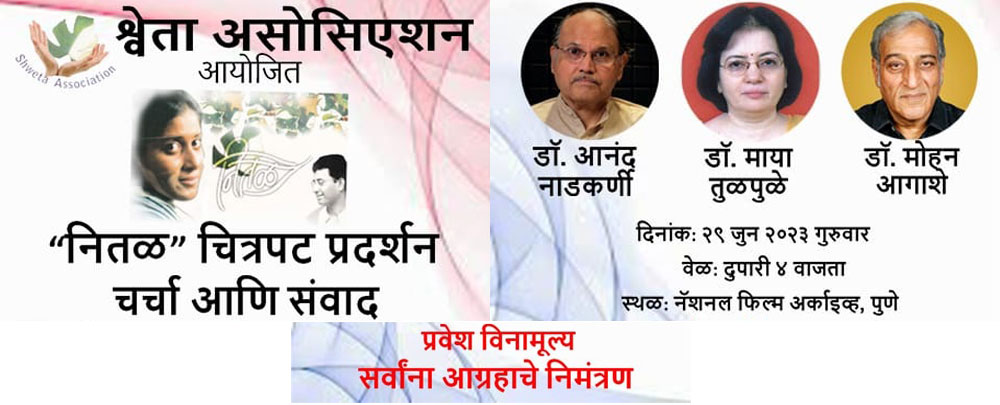 पांढरे डाग किंवा कोड विषयक जनजागृती करण्यासाठी नितळ चित्रपटाची निर्मिती झाली. सामाजिक कलंक, गैरसमज थोडे कमी झाले आहेत. पण प्रश्न आहेतच.
जागतिक कोड दिनानिमित्त आम्ही पुन्हा एकदा नितळचा खेळ आयोजित केला आहे. खेळानंतरच्या चर्चेतून, विचार मंथनातून आणखी काही हाती लागतंय का, पुढील वाटचालीसाठी नवी दिशा सापडतेय का? याबाबत डॉ मोहन आगाशे, डॉ आनंद नाडकर्णी यांच्याशी संवाद साधायचा आहे. प्रश्न विचारायचे आहेत. जनमत जाणून घ्यायचे आहे. आपणासारख्या रसिक, सामाजिक भान असलेल्या प्रेक्षकांच्या आम्ही प्रतीक्षेत आहोत.
दिनांक: २९ जून, गुरुवार, दुपारी ४ वाजता
स्थळ: नॅशनल फिल्म आर्काइव्ह, पुणे
प्रवेश विनामूल्य
---
National Level Art Exhibition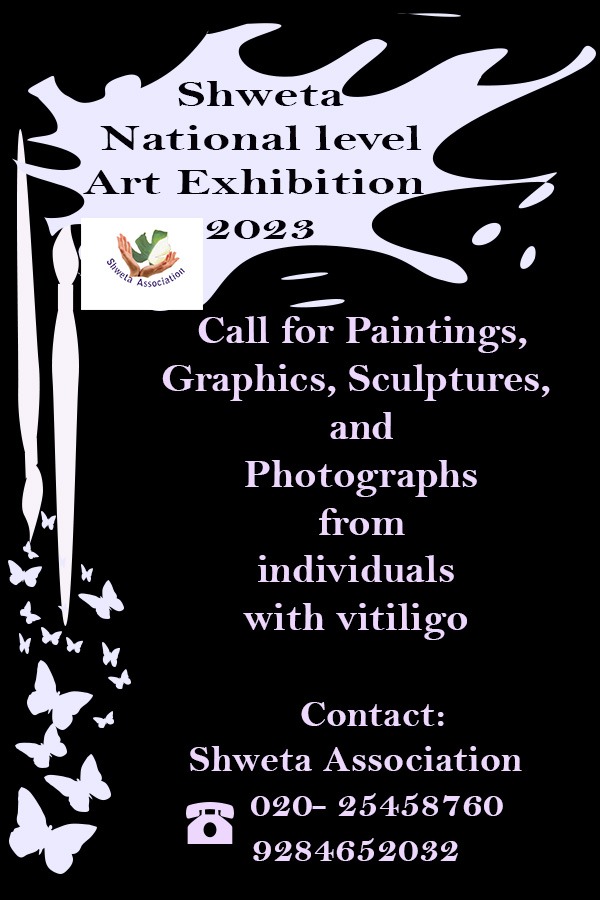 Click on the poster to view details
---
श्वेता असोसिएशन चा २३ वा वर्धापनदिन सोहळा
१६ एप्रिल २०२३
"मी सुंदर आहे मी सर्वोत्तम आहे हेच मनावर ठसवा. सौंदर्य ही फारच वैयक्तिक कल्पना आहे. त्याच्या पलीकडे जाऊन अंतरंगातली सुंदरता जी अधिक महत्त्वाची असते ती ओळखली पाहिजे." श्वेता असोसिएशनच्या २३ व्या वर्धापन दिनी नाट्य चित्रपट अभिनेता अमेय वाघ यांनी हा संदेश उपस्थितांना दिला.
Click here to Read more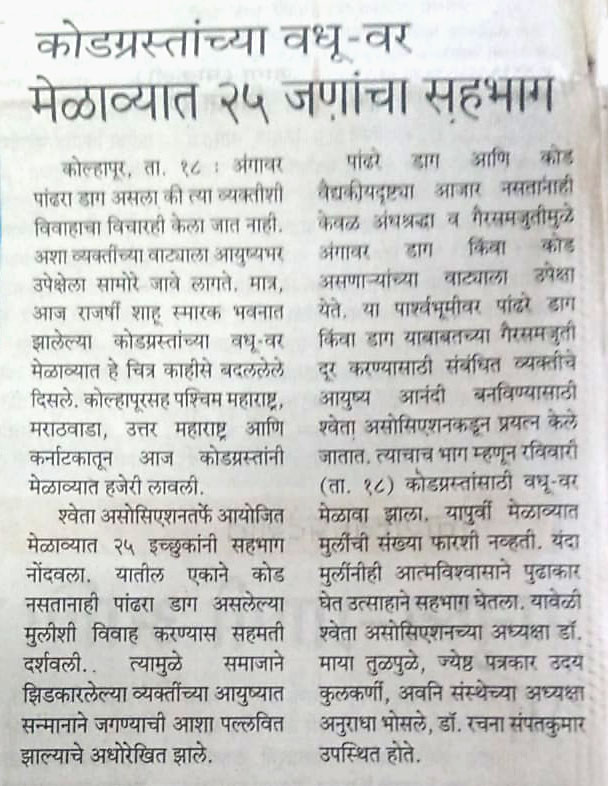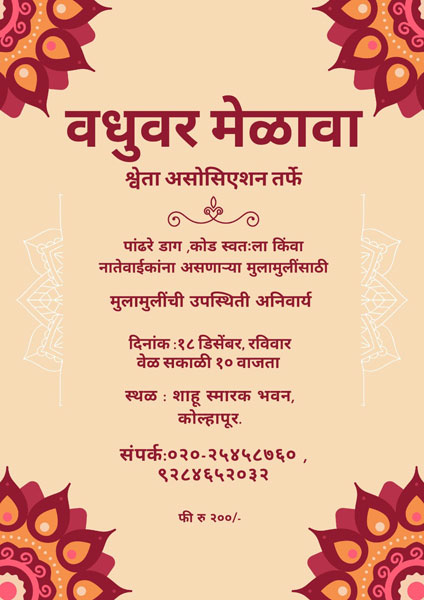 Donation Appeal
Shweta Association is a registered charitable trust working for betterment of people having Vitiligo (कोड) for last 20 years. For our various projects like Counselling, Matrimonial assistance, Employment Bureau, Cosmetic Camouflage, Phototherapy and Excimer Laser treatment and various awareness programs like Public Meetings, Publications and marathon Run For Vitiligo.
We need funding! Please donate generously towards this social cause.
Bank Details for Donation:
Shweta Association
Cosmos Co Operative Bank
Ganesh Nagar Branch
Saving Account No. – 009204201210721
IFSC Code – COSB0000009
Google Pay No: 9284652032
---
रंग मनाचे - (Our Newsletter) Latest Issue April 2021 has been published. Click here to view
---